There's been a lot going on since I last wrote, so please do catch up on these topics.
Some hours ago we issued this major release that takes us from our beta test phase to our first release that includes full graphics and much, much more...!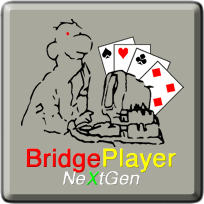 Try it now! - Press the button to go to our new Home Page and there, you can press 'Play Bridge'.
There are no downloads and nothing else to do but click and play, on any device, anywhere, at anytime! The product has been widely tested and even runs perfectly on my LG Smart TV - so we are really pleased that no longer will you be at the whims of hardware manufacturers or software systems such as Java or Flash.
We have programmed in a choice of graphics playing cards, high visibility playing cards and many other nice features that will make playing online really easy and very reliable. Please give us your feedback here so we can make it even better!
From a participant survey, the 2018 Reunion in Chester was an outstanding success and you can click here to see the pictures in our Community Photograph Album. The boat ride was a bonus and it gave everyone a chance to meet new friends in a relaxed environment - a key objective in all our reunions.
Now, we are shortlisting locations for the 2019 Reunion, so click here to show your preferences in this short questionnaire, so we can make the final decision for you very soon. Keep the candidate dates of 4- 8th April, & 2 -6th May, 2019 free.
The latest hand of the month from Barrie's secret hoard, is now active and ready for your skills and observations. Click here.
Please note that on or after 1st July, 2018, there will be some minor changes to our subscription rates that have not changed for many years. Continuous development at the cutting edge and in particular that of our NeXtGen program now becoming fully deployed, requires high levels of funding to match.
We will also simplify our regional country pricing and at the same time changing the period of the free trial that guests are offered. Remember, we have no advertising, no robot players and a highly professional and ethical playing environment that is second to none - that is what you are paying for and getting!
Over the coming months, the merging of Bridge4Free into just a separate Guest Room will become apparent and the Website will operate much more clearly on all modern devices. This is a major overhaul that will have the next few weeks as a transition period.
Our Privacy and Cookie policy (click here) and our Membership Terms (click here) have been updated to reflect the recent General Date Protection Requirements. By registering and using our site and the membership facilities to play bridge online, you are accepting these. You have the option at all times to opt out of our Newsletter mailings and all our other communications to you are specifically related to your current membership.