Below is a copy of the post I made today on our Comment board as many of you don't necessarily read this on a regular basis. As you can see, things are moving very fast! - and in the right direction - so, if you haven't tried it yet, please try again. For any problems you might have, just read our FAQ's or contact support.
Click the button below to go to our home page.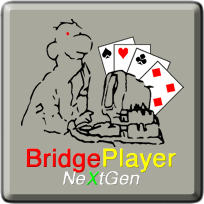 Then press the green "Play Bridge" button under your Welcome message.
Dear Members,

I follow the very interesting views of the Brexiteers and Remainers on this CB.

There continues to be a lot of moaning - and on that point, there still remains some moaning about the NeXtGen that continues to amaze me and my team that are diligently working towards a 'friction free' solution! Shall we call it NeXiT ?


We are NOT going to have another technical referendum on the matter - the decision has been made and we are slowly retiring the older version of the Bridge Player Program such as the Ipad and Android Tablet version and the JAVA desktop Version. This retirement process will only complete once WE are confident and YOU are happy that the replacement is as least as good as, but in my opinion, will be much better than our earlier versions.

Firstly - there is no reason whatsoever, that we, as a very small family company, would choose to redesign from scratch a product that would be inferior to what we had - the old adage if it 'aint broke don't fix it does NOT apply as the product upon which we rely on, namely the JAVA Operating System - is broke.

For example - today we released our 20th Build iteration, since July 5th - that is an average of 2 per week! - so I want you to applaud the hugely dedicated and skilled work done by Phil with Joke and Malcolm close by in support of testing, plus my own contributions to the web site design and development direction - WE ARE GETTING THERE! - and I can see from our logs, that on average, over 50% of you have already adopted the NeXtGen program to date.

Do take a look at the latest version from today - which includes many, many items that have been asked for and now included - and are the same if not better than the old Java version - features such as card spacing, optional audio, ability to save your settings so that upon return, they are left as YOU want them etc.. just look at the list we have achieved in just 10 weeks.

https://www.bridgeclublive.com/BCL_NextGenVersionDetails.asp

There is some collateral damage in all of this - so, in the same breath, I do apologise to those few who play on outdated computers and have ancient and/or deficient web browsers or operating systems - much like having a steam driven car and wanting to take it on the motorway - it just does not work very well at all, if at all. So, SOME of you WILL have to change - the change will allow you to benefit from the latest technology that has been used for our NeXtGen program - one that we would hope and plan will last for the next 5 years at least!

Let us have your feedback on this latest version - and try to adjust your views and see the direction we are going! - and help us get there too. As always, Joke in support will help you if you have any difficulty.
kind regards,
This email is being sent to

as a registered member of BridgeClubLive. Lost Password?


MemberID:

Expiry:


Boards Played:

PPI:



Click here to opt out of receiving future newsletters
® 2018 The International Online Bridge Club Limited